By Mr. Picky
One recent cold and rainy evening, I was craving something a little different than the usual glass of wine. I was eyeing the contents of the  fridge, when I spotted an opened bottle of 2007 Paso Port Violeta. Ah, the perfect drink for a cold and rainy evening.  As I started to pour a small glass, I got reprimanded by Mrs. Picky.
"That was a birthday gift from Aunt Linda."
"But I'm just having a small taste."
"It's supposed to be for special occasions. I want this stuff to last."
"But I'm just having a small taste."
"But it was a birthday gift for me."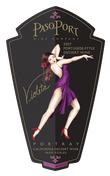 This was a first. Mrs. Picky has never stopped me from opening a bottle of wine no matter how special it is. At first I thought she was being selfish, but slowly realized that she, like I, loved this port. Since I didn't want to sleep on the couch, I decided to pour the port back into the bottle, but not before taking a sip of this heavenly juice.
It's also important to point out that we are not big fans of port. But something about Violeta is so powerful that it is creating conflict in the Picky home. Violeta, Paso Port's flagship port, is made exclusively from traditional Portuguese varietals and there is a delicate, sweet spiciness that has us wanting more.
Below are descriptions of Violeta and other Paso Port offerings from Paso Port's website and the story of Paso Port.
2007 PASO PORT VIOLETA
Tasting Notes
Complex, sweet spice and herbal elements of mace, anise, candied ginger and wintergreen, soar aromatically above the deeper fruit scents which can best be described as fresh-baked blueberry pie. The flavors are a port lover's tour-de-force, with a dynamic flavor profile of cassis liqueur, wild elderberry and rich, decadent dark chocolate. Drier and more structured than Ruby, our 2007 Violeta Portuguese-style port is capable of being cellared similar to a fine Vintage port.
Awards
Gold Medal – Orange County Wine Competition :: Bronze Medal – Central Coast Wine Competition
Vineyard Notes
Sourced exclusively from the Glenrose Vineyard
Production Notes
53% Touriga * 28% Souzao * 19% Tinta Cao
Winemaker's Notes
Each varietal is fermented separately in small stainless steel tanks. Frequent punch-downs and pump-overs of the fermenting must is performed daily until reaching between 12 – 15 brix, when the must is pressed, fortification to 18 – 19% Alc. finishes the process. Aging takes place in 10 year old barriques for approximately 2 years prior to being bottled.
Production
631 Cases
Where to buy:
Pasoportwine.com – $32
PASO PORTS' OTHER OFFERINGS
Ruby pays homage to the history of port-style wine production in California. The centerpiece of Ruby is Zinfandel, which will always remain a true Californian varietal. Petite Sirah and Syrah have been added to this blend to add some complexity and structure to this unique blend. The tradition of Ruby is to honor California winemaking, while adhering to the principles of fortified wine production which always remains at the heart of our effort.
Two aged Ports finish up our portfolio of Ports. Angelica and Tawny both provide a beautiful addition to our two Ruby style ports. Angelica is a wondrous blend of Verdelho, Muscat and Chenin Blanc.  This is a wine many have waited for ever since we started barrel-tasting the components of this wine in the summer of 2009.  It is a truly unique and memorable Aged White Port.
Tawny is composed of the same grape varieties in our Violeta Port, but with the addition of hand-selecting individual barrels which have received longer aging.  This aged port posses rich, mellow tones, which make it an ideal late night treat.
PASO PORT STORY
PasoPort is a small family-owned winery dedicated to producing fine, fortified dessert wine. The winegrowing region of Paso Robles is an untapped and, in our opinion, ideal location for making this style of wine.
So, why exclusively produce just Port-style wines? Owner's Steve and Lola Glossner share in the day-to-day operations of this small family owned winery.  Steve has over a decade of experience producing wines from within the Paso Robles appellation. As a present day wine consultant, Steve is involved with a number of different winery owners producing a broad range of table wines. With his immersion in all these different programs, producing dessert wines for his own label provides Steve an important creative outlet while not competing with any of the wines he produces for his clients. Besides, making fortified dessert wines is a heck of a lot more fun!